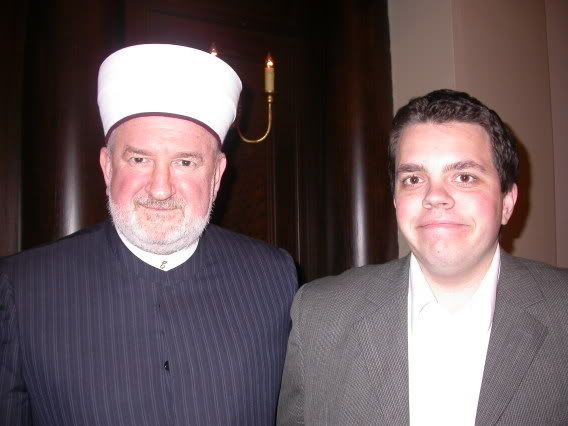 Networking with Dr. Ceric, the Muslim Grand Mufti of Bosina.
Well I am officially home for the summer. The semester is finally over after a
25pg paper, 20pg paper and 24pg paper
. Overall it was a very interesting year living and working in Birmingham. Some of the highlights were....
1. Hearing and meeting
Dr.Ceric
, the Muslim Grand Mufti of Bosnia, speak at Jewish synagogue,
2. Meeting
James Armstrong Sr
., the father who was the first to successfully have his sons
integrate
white Alabama elementary schools.
3. Meeting
Dwight Armstrong
, one of James Sr.'s sons who actually attended the first integrated elementary school classes in Alabama.
4. Discovering
the Blues
while listening to
Rev. Slick and the Mississippi Soul Brothers
play an amazing free set outside UAB arena.
5. Attending an interfaith dinner where I saw religion actually become a
bridge
instead of a barrier.
6. Attending a church that is willing to provide whatever its community needs.
7. Meeting
Katrina victims
and hearing their stories.
Those are just some of interesting experiences I've had in Birmingham over the past year. What does next year hold? I'm not sure right now. Right now I'm glad to be home and ready for a break. As of right now,
it's two down and two to go
.
CJE


Coming next week: Seven Years